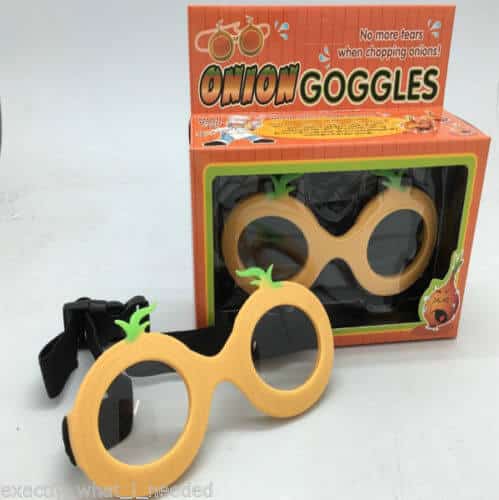 Onion Goggles – Novelty Eye Protector
Wipe away those tears with these Onion Goggles – Novelty Eye Protector
£6.99
In stock
Description
Onion Goggles – Novelty Eye Protector
Its not just the big wuss that cries every time they go in to the kitchen. Its the onion choppers too. If you know what i mean then these onion Goggle eye protectors are right up your street.
Did you know that its all about the hairy part of the onion (also known as the basal plate which forms part of the route). This when cut, crashed or irritated will bring you to tears. That's where these handy onion goggles come in to play. Just because you are chopping onions doesn't mean your eyes have to run down your face anymore!
Not only are the onion goggles obviously super stylish, they are also a necessary modern gadget in the kitchen. And i'm quite sure deserves pride of place in every single kitchen in the whole wide world!
The onion goggle novelty eye protector is the greatest invention of the century  – allegedly! This kitchen gadget gives a whole new dimension to chopping onions! Imagine, with these onion goggle eye protectors you could literally chop onions all day and your eyes wouldn't know the difference. I mean really – why wouldn't you buy them!
The onion goggle eye protector makes a great novelty gift, for kids heading off to uni, for dads who are afraid of the kitchen or very simply a secret Santa gift idea. And although it is clearly a novelty gift, the onion goggles are also educational and come with the history on the onion on the packaging and the explanation as to why onions make you cry. Making the novelty onion goggles eye protectors a clever and funny gift. You cant get better than that! And guess what, we learn something new every day, and that's my favourite part of the brilliant novelty gift!