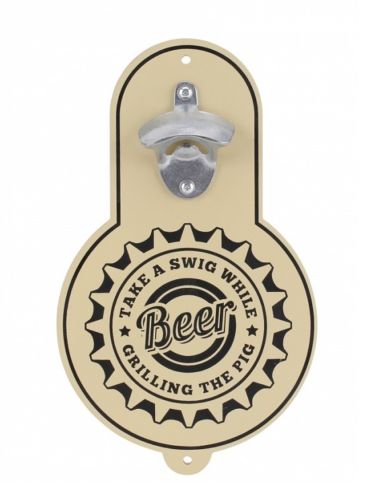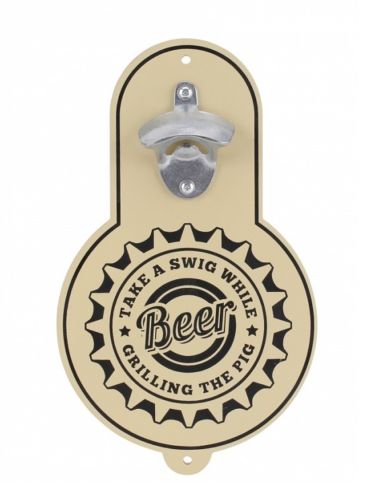 Dad?s BBQ Beer Bottle Opener
Dad's BBQ Bottle Opener – Take a Swig While Grillin the Pig, a perfect gift for the Dad who loves to BBQ.
£8.89
In stock
Description
Dad?s BBQ Beer Bottle Opener
Great food deserves great drink, and we?ve got the great novelty gadget to help you get it. Make sure the BBQ King is never without an open bottle of beer when you?ve got the Dad?s BBQ Beer Bottle Opener outside with you.
With a vintage style, this handy novelty gadget is the perfect companion for any BBQ expert fed up of going back into the house for a bottle opener. You can do exactly what this cool gift for him proudly advises, and that?s to ?take a swig, while you?re grilling the pig?! This wooden beer bottle opener just needs to be hung on a nail for you to enjoy total convenience next time you?re cracking open a few cold ones with the lads. Perfect for any outdoor event, not just a BBQ, you can make sure no beer bottle is left unopened when you arm your garden with the Dad?s BBQ Beer Bottle Opener.
The perfect Father?s Day gift if you?re stuck for ideas this year, this awesome novelty gadget is just what he needs if he?s partial to a beer or two. And you don?t just need to think of your Dad, any man who?s entrusted with BBQ duty knows the pain of not having an open beer, so lend a helping hand this year when you give them the Dad?s BBQ Beer Bottle Opener.
Features:
High quality solid wood,
Great way to get those capped bottles opened,
Comes ready to hang on a nail,
Approx Dimensions:?Height: 29.5cm Width: 18cm Depth: 4cm.