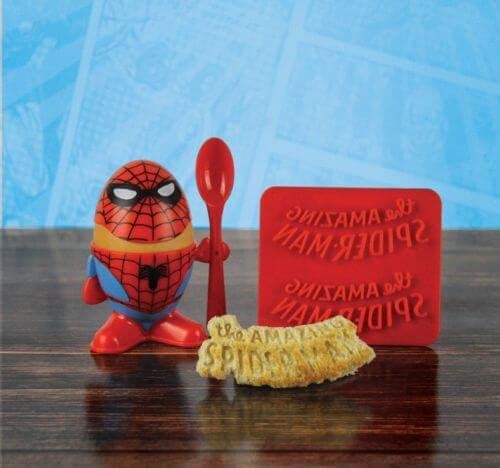 Spiderman Egg Cup Holder and Toast Cutter
Feast like a Marvel hero each and every morning with this fun Spider Man Egg Cup and Toast Cutter.
£8.99
Description
Protect yourself from any criminals around the breakfast table with this Spider-Man Egg Cup holder. Keep your beloved boiled eggs safe when you use this fun kids gift.
Swing into action and defend your eggs from any thieves or damage that awaits around the breakfast table. This cool gift for boys is entirely decked out in a Spider-Man costume, even providing a mask for you to keep your egg's identity safe with (and to keep it warm!). You get a handy spoon so you can enjoy every last bite of your boiled egg yourself. And who could forget about the toast? Turn your soldiers into Spider-Soldiers with your awesome toast cutter. You can leave a calling card on each slice of toast, undoubtedly making them taste even nicer! Everybody around the breakfast table will be jealous that you're eating with your friendly neighbourhood Spider-Man when you use this Spider-Man Egg Cup!
The perfect birthday present or stocking filler gift for kids who love their superheroes, this handy piece of kitchenware is sure to be enjoyed by parents too as a sure-fire way to get your kids to leave a clean plate. A cool gift for boys or girls, if they love Spider-Man and love breakfast, they'll love this ?Amazing? Spider-Man Egg Cup!