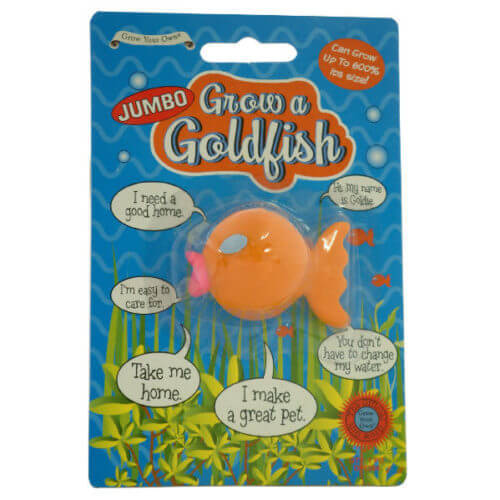 Grow A Goldfish
Place this Goldfish in water and watch it grow up to 600%
£2.99
In stock
Description
Additional information
Description
Have you ever longed for a pet but not been keen on the responsibility that it would entail? Thankfully for you, there's an answer! With Grow a Goldfish, you'll have a little buddy to keep your company that won't eat you out of house and home.
He doesn't make a mess, doesn't need feeding or changing, won't keep you up at night and, more importantly, just needs a good home. Grow a Goldfish is the perfect pet for anyone who finds it a chore enough to look after themselves. Put the little guy in the water where he belongs and watch as he grows six times his size in under 72 hours. This funny gift can be used time and time again, as it slowly returns back to its normal size, meaning it's a joke that will stay in people?s memories longer than in a goldfish?s!
He's a hit with anyone who's after a new friend. So if you're stuck for a novelty gift idea for your brother, sister, mother, father, friend or colleague, give them Grow a Goldfish and watch their eyes light up with happiness. This little guy just needs a home, so why not give it to him when you give this funny gift for him or her?
This Goldfish has the ability to grow six times its size when left submerged in water for 72 hours.
Made of a sponge-like non-toxic material which expands when placed into water, and when taken out of water slowly shrinks back down to its normal size too, so this product can be used time and time again.