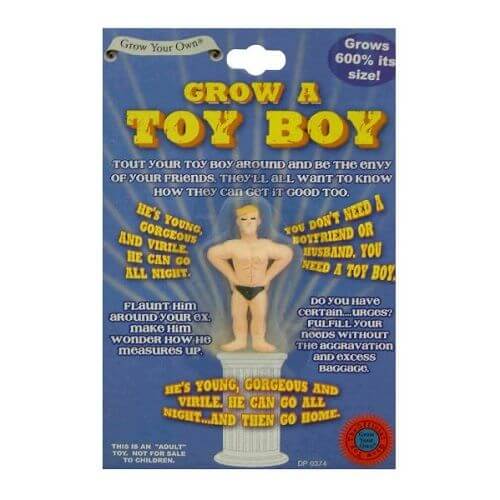 Grow A Toyboy
Place the toyboy in water and watch it grow up to 600%
£2.99
In stock
Description
Additional information
Description
Roll back the years and relive your youth with the Grow Your Own Toyboy! This handsome young man is just what you need to add some excitement if things have become a bit stale. Sure, you love your partner, but why not upgrade for a slightly younger model with this novelty gift.
He's young, gorgeous and has endless amounts of energy, and what's more, you'll watch your friends turn green with envy as you tout your man around. All you need to do is add this hunk to water and watch him prove his worth as a ?Grow Your Own Toyboy? as he grows six times his size in just 72 hours. Then you can enjoy parading around with your arm candy and all the impressed looks the pair of you will be getting!
Grow Your Own Toyboy is the perfect choice if you're looking for a funny gift idea for a hen party or stocking filler. If you're feeling brave, you can even take the opportunity to give this little fella as an office secret Santa present. Sure to get some laughs wherever you are, this funny gift for her is exactly what she needs, but is too afraid to ask for!
He has the ability to grow six times his size when left submerged in water for 72 hours.
Made of a sponge-like non-toxic material which expands when placed into water, and when taken out of water slowly shrinks back down to its normal size too, so this product can be used time and time again.