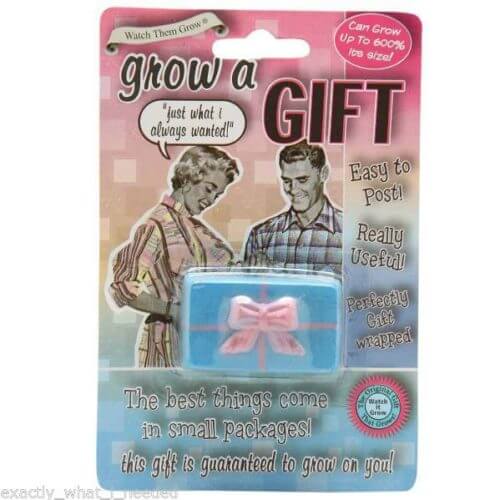 Grow Your Own Gift
Place the gift in water and watch it grow up to 600%
This is the perfect novelty gift, for those who are never satisfied. Let them imagine it to be what ever they wish for.
Made of a sponge-like non-toxic material which expands when placed into water, and when taken out of water slowly shrinks back down to its normal size too, so this product can be used time and time again.
£2.99
In stock
Description
Additional information
Description
This funny gift is the ideal choice if you're stuck for what to get someone. Don't spend lots of time and money getting them a gift they might like when you can get them a gift they can imagine to be exactly what they wanted! So look no further than Grown Your Own Gift – the ultimate novelty gift around!
Made from expanding sponge, this quirky gift is shaped like the ideal present it is and only needs to be added to water before growing to six times its original size. It's perfectly wrapped, and guaranteed to grow on them! There's also an element of reusability, as the sponge reduces to its normal size after use, which is perfect if you want to try the joke out on someone else. Grow Your Own Gift lets their imagination decide what you got them, making this the perfect gift for those who are never satisfied!
A funny gift for both him and her, this quirky little present is just the thing your secret Santa needs this year. Sure to gather some laughs when they open it, the expanding gift box is a funny little prank no matter who the recipient is. If you're struggling to come up with a funny gift idea, Grow Your Own Gift is a perfect solution.
Our Grow a gift has the ability to grow six times its size when left submerged in water for 72 hours.