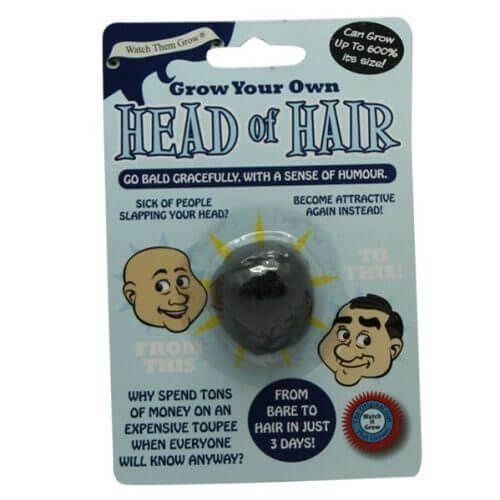 Grow Your Own Head Of Hair
Place the head of hair in water and watch it grow up to 600%
I'm pretty sure there are a lot of people out there who can do with an extra bit of hair.
This is the perfect gift for them.
NB This is a novelty gift and if you are bald, then we're sorry about that.
£2.99
Out of stock
Description
Additional information
Description
Grow Your Own Head Of Hair
Say goodbye to your hair-thinning worries with Grow Your Own Head of Hair – a novelty gift that lets you go bold ever so graciously. It's a fear all men have, but with this quirky gift you can hold on to your hair for just that little bit longer, even if it is in the palm of your hand. Toupees and hair treatment is expensive these days, so be smart and choose this quirky expanding sponge to add some extra sophistication to your look.
Simply place this novelty gift in water and watch as the sponge grows six times its size to form the perfect wig. It only takes 72 hours, meaning you can go from bald to beautiful in less than 3 days! What's more, this funny gift for him eventually returns to its original size, making it the perfect joke for you to play on multiple unsuspecting friends and co-workers.
Be a joker when you give the hilarious Grow Your Own Head of Hair, guaranteed to hit the spot and gather some laughs. If you're after a funny gift idea for your dad, best friend or colleague, look no further than this novelty present. Or, if you're feeling really brave, why not try this prank out on your boss and earn some serious respect from your peers?
This Head of Hair has the ability to grow six times its size when left submerged in water for 72 hours.
Made of a sponge-like non-toxic material which expands when placed into water, and when taken out of water slowly shrinks back down to its normal size too, so this product can be used time and time again.