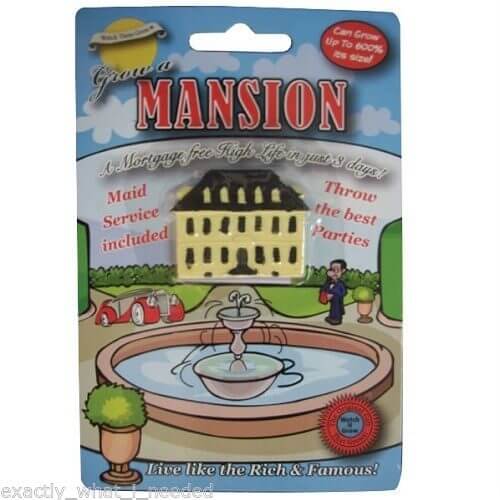 Grow Your Own Mansion – Novelty Gift
Place the Mansion in water and watch it grow up to 600%
Fed up of reading these horror stories of how difficult it is for youngsters to get on the housing ladder. Poor little munchkins. This is a perfect gift for those struggling to get on that hypothetical ladder.
Please note: you cant actually live in the mansion, ?but it does look pretty cool.
£2.99
In stock
Description
Additional information
Description
Live the good life and act like a lord when you Grow Your Own Mansion. This fun gift allows you to live out your fantasies of privilege and become the king of your very own estate. With a venue for lavish parties and a maid service included, you won't have to wonder how the other half live!
This novelty gift is easy to use and fun for all ages. Just place Grow Your Own Mansion in water, then sit back and watch it grow six times its original size! The sponge-made mansion also shrinks back down to its starting size after each use, which helps to retain the element of surprise for when you're showing people around your property. With the vast estate and Gatsby-like grounds, you can banish your own worries about getting onto the property ladder (disclaimer: you won't actually be able to live in the mansion, but it's still a fun gift!).
Grow Your Own Mansion is a quirky gift for just about anyone, and makes for a perfect secret Santa gift for that stingy co-worker or friend. Whether it's given as a subtle hint to your mortgage-reluctant partner, or a funny reminder for your youngest to save their pocket money, this novelty gift hits home in a cheeky way with everyone!
More information
Made of a sponge-like non-toxic material which expands when placed into water, and when taken out of water slowly shrinks back down to its normal size too, so this product can be used time and time again.