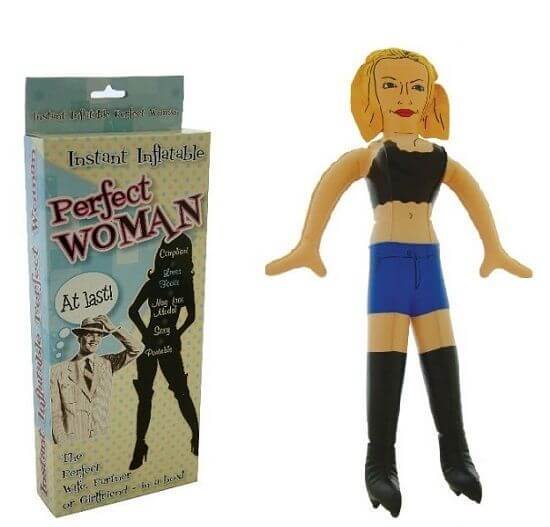 The Perfect Woman – Inflatable Blow Up Doll
For men who have run out of luck with the ladies, or never had it in the first place.? This gorgeous babe has long blonde hair, big blue eyes and although she may look like a bit of on old tart she's actually quite romantic.
The perfect women is really just that. You wont get any unexpected credit cards bills or backchat.
This is a great novelty gift idea and perfect secret Santa gift.
£4.50
In stock
Description
Additional information
Description
Inflatable, insatiable and irresistible, you couldn?t do any better than the Perfect Woman, so make sure to bring her along with the group next time you're out on the town! She's always up for a laugh, incredibly loyal, ? the perfect ice breaker, and she'll be sure to get you and your mates noticed wherever you find yourselves.
If you're looking for a funny gift idea, look no further than the Perfect Woman, she's dressed to impress and will have every guy in the bar jealous of you. This babe is gorgeous, with long blonde hair and stunning blue eyes she's the belle of the ball in every way. She's easy to inflate and won't slow you down, whether you're at a stag party or enjoying a night out after the footy!
A perfect novelty gift for him, this funny little mistress is exactly what you need to add a naughty twist to your next night out. If you're out of ideas for a secret santa gift, why not give the Perfect Woman? Perfection is hard to find, but with this blow-up babe you'll be sure to hit the spot and get more than a few rounds of laughs from the group!
PLEASE NOTE:
The box is purposely flattened for shipment.