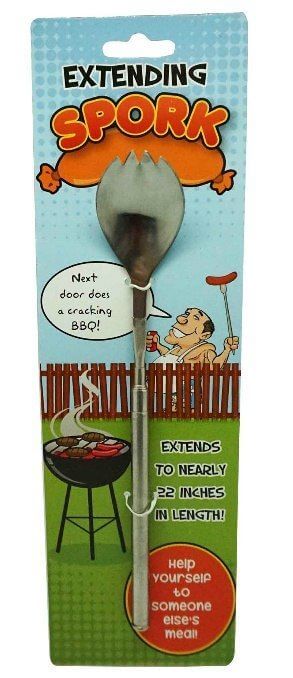 Extendable Telescopic Spork Fork
Extending telescopic Spork that extends up to 22 inches in length!
The retro-extending Spork makes the perfect gift for anyone who loves their food and cant get enough! ?With this cleverly disguised extending fork ?you can commit the perfect crime and steal food from other peoples plates!
£4.99
In stock
Description
Additional information
Description
Add some mischief to your next BBQ with the Extendable Telescopic Spork Fork. This novelty kitchenware gift will brighten up the mood at any BBQ, no matter how British the weather is!
Cleverly disguised as a standard BBQ cooking tool, this funny gift can extend to 22 inches in length, meaning no food in sight will be safe from the owner. Everyone will be in stiches (keeping their eyes on their plates!) as the sausage stealing frenzy begins. The Extendable Telescopic Spork Fork helps you to help yourself to any plate around the table. Or, why not get involved in your neighbours BBQ if you see some burgers you like and there's only a fence between you?
Sure to hit the spot at any gathering, this funny gift is sure to get some laughs from kids and adults alike. It makes for a great housewarming gift to break the ice with your new neighbours, or you can see Dad's face light up as you give him his new BBQ-themed birthday present. Perfect for any BBQ mad men, why not give the present to a colleague or your boss at the work summer party, or as a secret Santa gift.