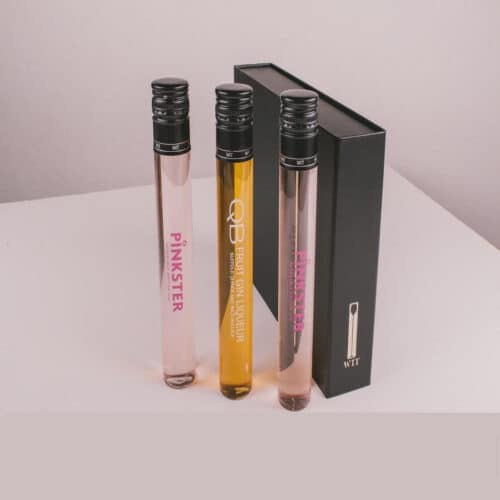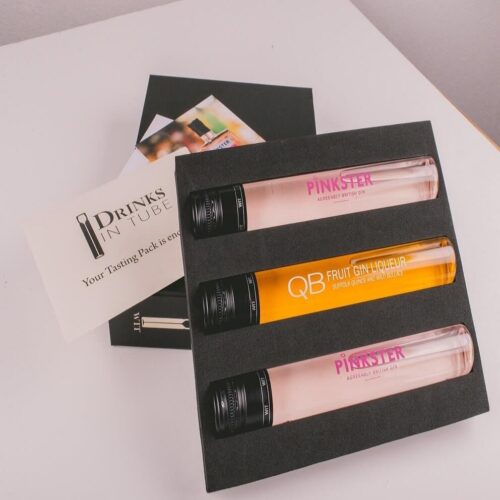 Drinks In A Tube – British Gins Taster Set
Drinks In A Tube – British Gins Taster Set
3 100ml ?tubes
3 Delicious Gins
£39.99
Out of stock
Description
Here we have a lovely taster set of some of the greatest Gins made here in Britain. Starting with the lovely Pinksters Gin from Cambridge. This Drinks in a Tube set comes with two Pinksters Gin taster tubes that have been distilled in small batches using locally picked raspberries and are?hand-steeped in the gin, giving the gin its wonderful pink colour. And one taster tube of QB Gin, which is a lovely fruit based liqueur gin made from?Suffolk quince and wild bullace (a wild plum). All British homegrown produce makes up this great gift for mums and dads or drinks/gin lovers.
British Taster Set – Pinkster Gin:?Two ?x 100ml of Pinkster Gin; 37.5% abv.
Tasting and serving suggestions: Pinkster is a deliciously dry gin, with wonderful flavours of raspberries?and juniper. This makes a refreshingly different gin and tonic, and can be serves with a fresh raspberry and a sprig of fresh, crushed mint to add a little something different to this wonderful gin.
Bristish Tster Set – QB Gin: One 100ml tube of QB Gin; 30% abv
Tasting and serving suggestions:?QB Gin is a?sweet fruity number and is delicious served neat over ice cubes or sublime as a champagne cocktail. Alternatively, for something different it's great with ginger ale, over plenty of ice, and you can even add a strip of orange peel if you take your gin drinking seriously.
This Drinks in a tube taster gift set is great for Mother's Day, Father's Day or as a birthday gift for him or her. Gin and tonic is one of the oldest drinks on the cocktail menu but is still extremely popular on the drinks scene. And with some wonderful variations that have come to the market in recent years reviving that wonderful flavours of gin and enhance the delicious taster with these great taster tube sets.
This is definitely a brilliant gift idea for over 18's who like a little tipple.
OVER 18'S ONLY?