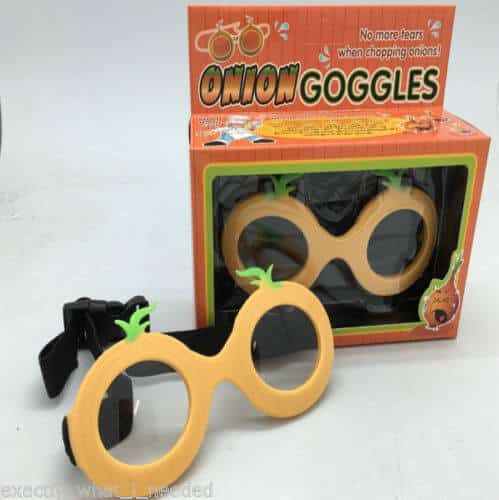 Onion Goggles – Novelty Eye Protector
Wipe away those tears with these Onion Goggles – Novelty Eye Protector
£6.99
In stock
Description
Onion Goggles – Novelty Eye Protector
 Make sure there's only dry eyes in the house next time you're cooking when you use these novelty Onion Goggles. Avoid tears and your culinary fears with this hilarious and practical kitchen gadget. 
We've all been there before cooking- cooking up an amazing chili con carne or spaghetti bolognese and having to undertake the dreaded onion slicing. While there's nothing we can do about the strong fragrance of the smelly little vegetable, we can help you keep your eyes dry with these Onion Goggles! The novelty gift for him or her also saves you from the fear of delivering the classic "I haven't been crying, I was chopping an onion" line and not being believed! Slice and dice your onions the right way, and make sure your eyes stay dry, vision stays clear and you stay safe with this quirky kitchenware. 
An ideal gift for anyone and everyone who's ever cut up an onion, this novelty gift will go down with a chorus of laughs, but is still a highly practical gadget! The Onion Goggles are perfect for anyone who's into their cooking, and us great as a caring and quirky Mother's Day present or cheeky and funny Father's Day gift.
Did you know that its all about the hairy part of the onion (also known as the basal plate which forms part of the route). This when cut, crashed or irritated will bring you to tears. That's where these handy onion goggles come in to play. Just because you are chopping onions doesn't mean your eyes have to run down your face anymore!