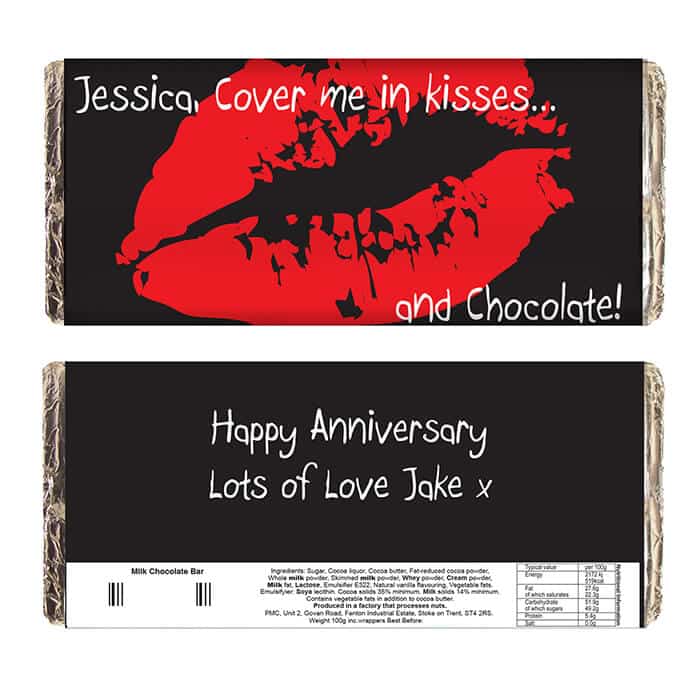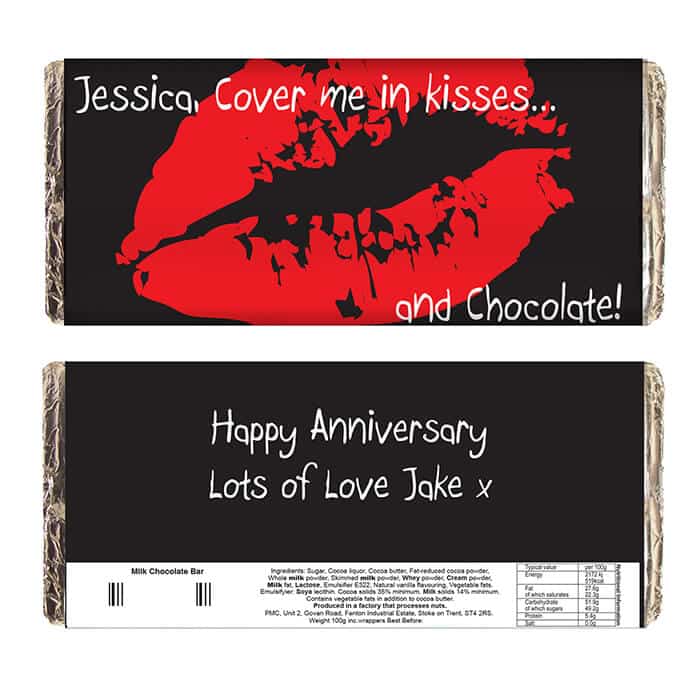 Personalised Milk Chocolate bar
Personalise with any name up to 15 characters before the fixed message "cover me in kisses".
Then personalise with your own message to the back of the bar over two lines up to 30 characters per line.
£5.99
Description
Has there ever been a better gift than chocolate? Well now there is, with this Personalised Milk Chocolate Bar, designed for all occasions! Everyone will appreciate the sweet gesture when they get this delicious chocolate bar, and chuckle at the cheeky personalised novelty wrapper.
The wrapper features a sexy lipstick kiss, as well as the naughty phrase ?,cover me in kisses? that allows you to dedicate the message to your loved one (or secret crush) by adding their name. There's no better way to say ?I Love Your? than with chocolate, so say it in the right way to the right person with this Personalised Milk Chocolate Bar.
This romantic gift is perfect for just about any time of year, whether it's Valentine's Day, Christmas or their birthday. The Personalised Milk Chocolate Bar is an ideal gift for him or her and could even be an effective personalised gift at your work's secret Santa or for a funny stocking filler for a friend. It's worth remembering that a six year wedding anniversary traditional calls for a gift of candy, so if that big milestone is approaching there's no time like the present to get this delicious present.
This cheeky personalised milk chocolate bar, makes a great birthday gift for her or him, or just your average chocolate lovers. Be it Valentine's, birthday's or evening a wedding anniversary gift, this is a great choice of gift.