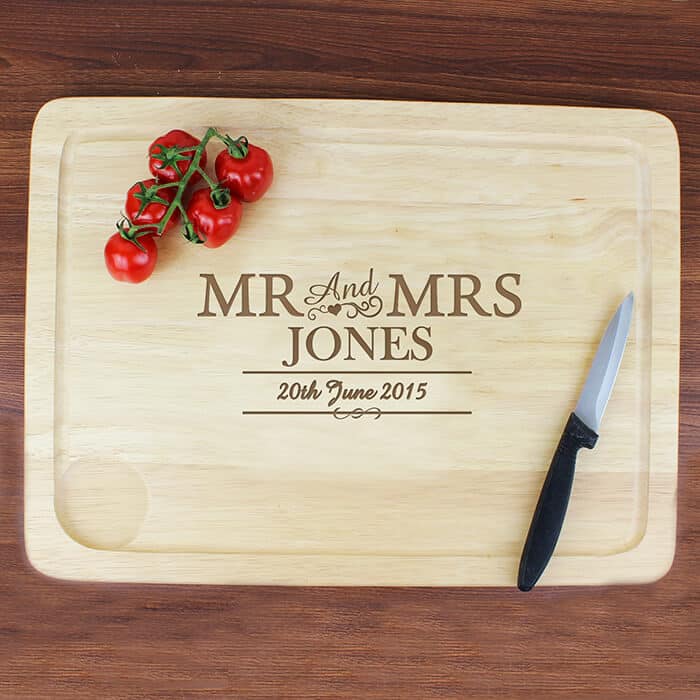 Personalised Mr & Mrs Chopping Board
Personalise this Mrs & Mrs Chopping Board with a couples surname up to 15 characters and date up to 20 characters.
'Mrs & Mrs' is fixed.
Surname will appear exactly how customer enters.
If you would like the personalisation to be formatted like the image please enter Line 1 in uppercase and Line 2 in proper case e.g.
Line 1 (Surname) – SMITH
Line 2 (Date) – 13th June 2015
Please note as the chopping board is a natural wood product, colour and grain may vary from board to board. This may also cause the engraving to appear slightly darker or lighter in places, however the surface should be smooth and even.
NOTE: Due to the font type used please refrain from using all capitals in your personalised message on Line 2 (date). If the message is all in capitals you will find the personalisation extremely difficult to understand and may even result in personalisation being missed off the product. Many thanks for your cooperation.
£14.99
Description
What better wedding gift that one you're going to use every day? The Personalised Mr & Mrs Chopping Board is the perfect addition to your kitchen and the perfect addition to your home. This handy kitchenware gift for newlyweds is just another reason to remember your special day, every day.
A perfect fit with every kitchen, the Personalised Mr & Mrs Chopping Board looks the part with its hardwood makeup and will fit in with any couples you know after a contemporary or a classic kitchen. You'll add their new family name after ?Mr and Mrs?, while you'll also include the special date, so they'll never have an excuse for forgetting their anniversary! They say food is the way to the heart, so why not give a special gift for that special couple that reminds them of their love every time they prepare dinner?
While it's the perfect wedding gift around, this personalised present is great for an anniversary gift to remind them of the best day of their lives, whether it's one, ten or twenty years after. Great for newlyweds, or as an anniversary gift for your mum and dad, the Personalised Mr & Mrs Chopping Board is bound to be appreciated by just about anyone with a kitchen!
Height: 20 CM
Width: 30 CM