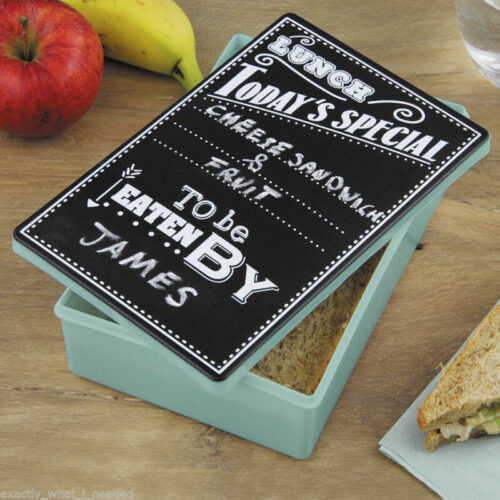 Chalkboard Lunch Box And Chalk Pen
Chalkboard Lunch Box And Chalk Pen
Personalise your lunch with this stylish and cool novelty Chalkboard Lunch Box.
Its a great gift idea for children and a fun gift for adults too.
£7.99
In stock
Description
Additional information
Description
Make a note of the day?s lunchtime special with this quirky Chalkboard Lunch Box and Chalk Pen. Whether it's sandwiches, salad, crisps, fruit or any other snack, you can proudly display your personalised menu across the top of this novelty lunch box.
Make sure everybody knows which gourmet meal will be enjoyed that lunchtime with this cool back to school gift. The fun Chalkboard Lunch Box and Chalk Pen lets you write down the day?s special as well as the name of the lucky customer who gets to eat it! This cool gift for boys and girls has a vintage look to its menu board, and wouldn?t look out of place in a swanky Parisian restaurant! Perfect to avoid confusion when placed with the other lunchboxes, yours will stand out as the coolest one on the shelf.
While ideal as a cool gift for kids, the Chalkboard Lunch Box and Chalk Pen also works as a quirky stocking filler for adults. Destined to be the coolest lunchbox in the office fridge, why not give someone this vintage novelty gift as a secret santa present this Christmas? This fun novelty gift works both ways too, as you can let your child know what's on the menu that day, or they can scribble a cheeky order that you may or may not listen to!
Designed as a classic menu board to write?today's speciality and any extra treats. What better place to ?put a ?lovely ?homemade lunch.