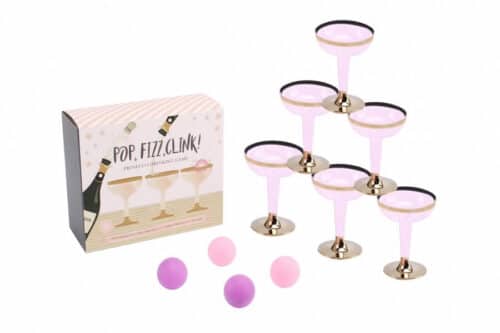 Prosecco Drinking Game
Set Consists of:
12 Plastic Prosecco Glasses
2 Pink + 2 Hot Pink Ping Pong Balls
£14.99
Out of stock
Description
Prosecco Drinking Game

The drinking game for those with class, the Prosecco Drinking Game is the must-have essential for your next party, night-out or special occasion. Turn your next tipple into a competitive one with this funny gift for her!

This Prosecco Drinking Game is a fun and slightly more sophisticated take on the classic Beer Pong and is the alternative for any ladies who prefer their bubbly to their beer. This fun novelty gift for her provides a set comprising 12 plastic pink Prosecco glasses and 4 ping pong balls (2 pink and 2 hot pink). Play in teams, or on-on-one if you're feeling brave with this fun novelty drinking game that's sure to add some excitement and class to any event you're at. All you need is a clear table top for you to set up your game, and you won't even have to worry about breakage with the plastic glasses provided!

Perfect for any Prosecco-mad lady, this cool gift for her is sure to be enjoyed no matter when you give it. It's ideal as a stocking filler or secret Santa gift that will surely feature in Christmas Day games as the day gets later and everyone gets merrier. Celebrate the right way, all year round, with the Prosecco Drinking Game.