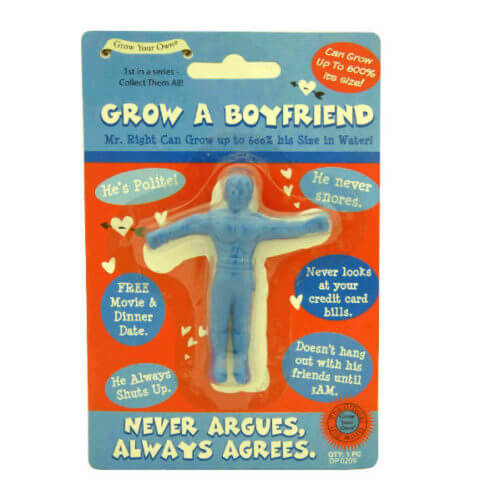 Grow Your Own Boyfriend
Place the boyfriend in water and watch him grow up to 600%
Mr. Right has the ability to grow six times his size when left submerged in water for 72 hours.
Made of a sponge-like non-toxic material which expands when placed into water, and when taken out of water slowly shrinks back down to its normal size too, so this product can be used time and time again.
Comes in either Pink or Blue and will be selected randomly.
£2.99
In stock
Description
Additional information
Description
If only life could be as simple as taking a break from the exhausting world of dating to shack up with the man of your dreams. With Grow Your Own Boyfriend, it is!
This heartthrob is just the fella you need in your life to spoil you, shower you with affection, and most important, just let you get on with it all! This little guy is polite, well-behaved and won't be out at the pub till late. What's more, Grow Your Own Boyfriend is a free dinner and movie date that you can bring with wherever you go! Just place this funny gift for her in water to see him grow as large as six times his size in 72 hours!
If you're looking for a hen party gift, then look no further than Grow Your Own Boyfriend. He's a hit with just about any lady and will surely get all the girls laughing as you give him to the lucky bride-to-be. This novelty gift for her is also perfect as a cheeky stocking filler or a secret santa present that will hit the spot with friends and co-workers alike. You can even pick up this handsome beau as a joke gift for your mum, to really get on dad?s nerves! Whatever the occasion, this little guy sure knows how to make the perfect impression!
Mr. Right is a ?brilliant Novelty Prank Gift, that will have everyone laughing.