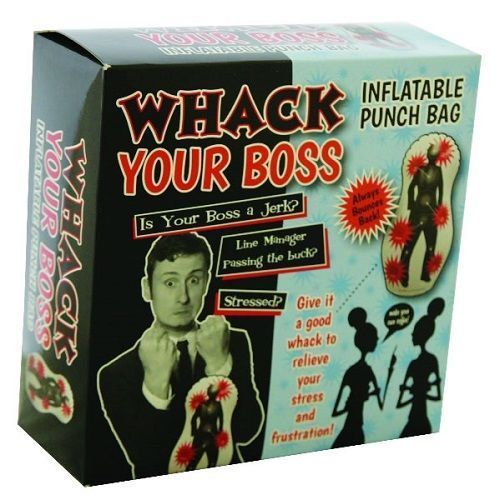 Whack Your Boss – Inflatable Punch Bag
Boss getting on your nerves? Stuck for ideas on how to handle the situation? Don't come to be with a problem, come to me with a solution.
Whack Your Boss ?Because?it makes you feel better.
Complete with phrases? that you know you wish you could come out with to the real thing like??Make your own Tea and Coffee?, ?I deserve a pay rise for putting up with you!? and ?You?ve got personal hygiene problems!? This Whack a Boss makes a great novelty and fun gift for anyone who?s ?working for the man?.
This Inflatable punch ball is in the shape of a bowling pin with a nasty boss and slogans/targets printed on.
It is?weighted down with sand, so you can?punch this as hard as you like and?it will keep coming back for more!
£5.99
In stock
Description
Additional information
Description
Whack Your Boss – Inflatable Punch Bag
THIS IS AN ADULT NOVELTY GIFT AND NOT FOR PLAY BY CHILDREN
Approx Size: 37cm Height – 18.5cm Width
PLEASE NOTE:
The box is purposely flattened for shipment.