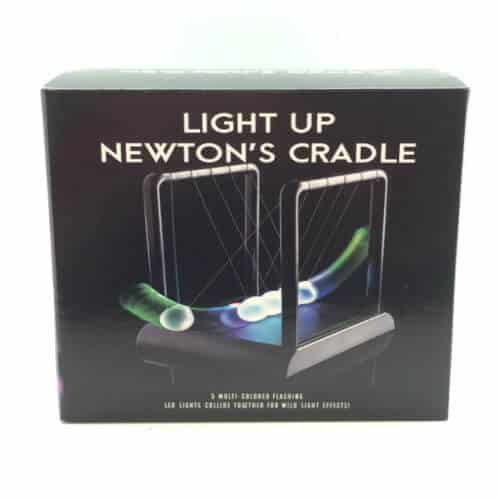 LED Light Up Newtons Cradle Kinetic Balls
With 5 Different colours swaying from side to side, this is the perfect novelty gift idea for those who need help controlling their stress levels.
£29.99
In stock
Description
LED Light Up Newton's Cradle  
There's nothing more executive than having a Newton's Cradle on your desk at work, except for having a Newton's Cradle that lights up on your desk at work! Impress your co-workers or just pass the time when you use this LED Light Up Newton's Cradle! 
Brighten up Monday mornings, or fight the boredom of Friday afternoon with this novelty gift for him or her, that adds some character and sophistication to anyone's desk or office. With 5 different coloured balls swaying side to side on this Cradle, you won't know where to look as you enjoy this sensory overload! The LED Light Up Newton's Cradle doesn't just pass the time, it also helps to relieve stress and calm you down – something anyone with a job will tell you they're in need of!  
Ideal as a gift for a co-worker or friend, the LED Light Up Newton's Cradle is a gift that everybody will appreciate and will find themselves using more than they thought they would. It's great as a secret Santa gift at work, or as a stocking filler or small birthday present, while you can even celebrate a friend or co-workers promotion in the right way by giving them this quirky office gadget! Also great for kids, this novelty gift for boys or girls will look great on their bedside table and might even spur them on to their own executive position someday.