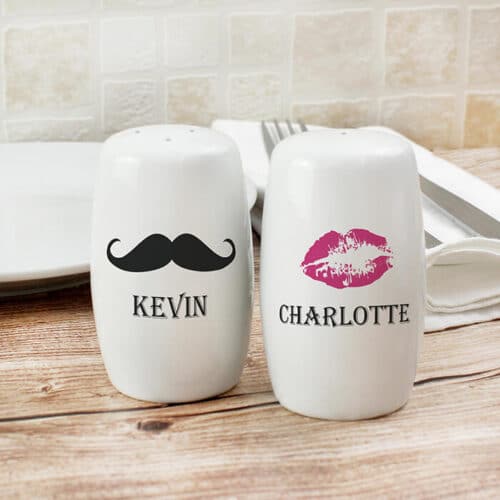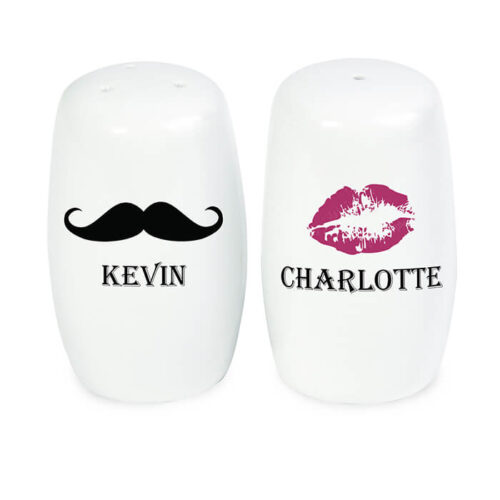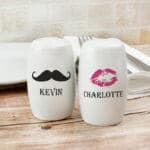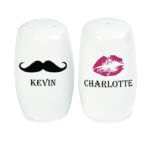 Personalised Moustache & Lips Salt and Pepper Set
Personalise with a name on each pot up to 15 characters long.
Line 1 will Appear on the Pot with a Moustache
and
Line 2 will appear on the pot with the lips.
£14.99
Description
Add some character to your kitchen cupboards and complete your condiment selection with the Personalised Moustache & Lips Salt and Pepper Set. These shakers are the essential novelty his and hers gift for anyone that needs to upgrade their kitchenware collection.
You can add your own names to these personalisable shakers, which feature quirky pictures to let you know whose is whose. His and hers gifts can be pretty uninspiring at times, but this personalised gift for him and her will brighten up every meal time and will definitely impress your visitors. What better way to celebrate your relationship and your home than to start adding your name to the furniture? Moustache is pepper and lips are salt, so you'll both need to compromise and let each other have a bit of yours!
The Personalised Moustache & Lips Salt and Pepper Set is the ideal housewarming gift for any of your friends who have just moved house, or the perfect ice breaker to bring round to the neighbours! Whether it's a funny anniversary, Christmas or birthday present, either for you and your partner, or for another couple, these quirky salt and pepper shakers will bring a smile to everyone?s faces.
Hand washing is recommended.
3-7 working days for delivery