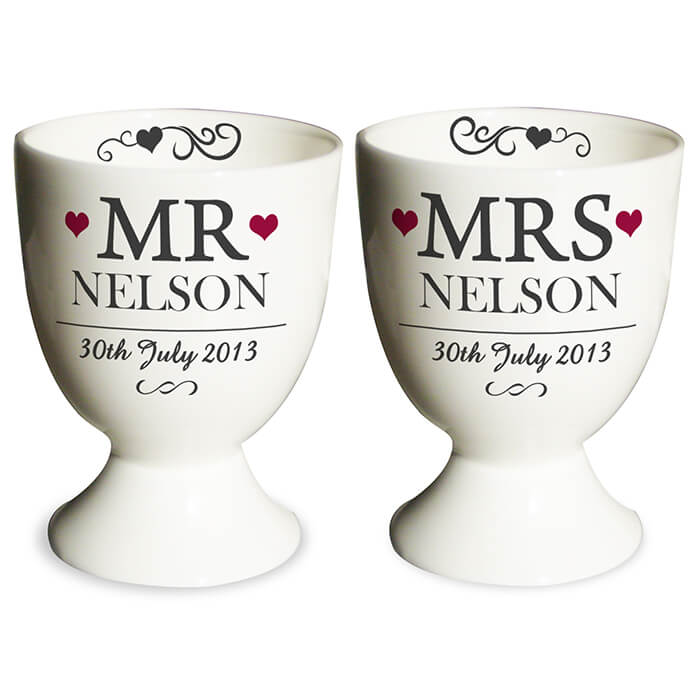 Personalised Mr & Mrs Pair of Egg Cups
Personalise these Mr & Mrs Egg Cups with the couples surname up to 15 characters and a date up to 20 characters.
'Mr & Mrs' is fixed.
Surname will appear capitalised as standard.
NOTE: Due to the font type used please refrain from using all capitals in your personalised message on line 2. If the message is all in capitals you will find the personalisation extremely difficult to understand and may even result in personalisation being missed off the product. Many thanks for your cooperation.
£14.99
Description
Personalised Mr & Mrs Pair of Egg Cups 
You share your lives with each other, so why not share breakfast together in the right way with your very own Personalised Mr & Mrs Pair of Egg Cups? You'll be brought even closer every time you eat boiled eggs and soldiers when you have this romantic gift for two.  
Commemorate your wedding date with these customisable egg cups that can proudly display your surname and wedding date, one bearing 'Mr' and the other 'Mrs'. You'll remember your special day every breakfast time, which really makes the Personalised Mr & Mrs Pair of Egg Cups the gift that keeps on giving. This fun homeware present is the perfect gift for the perfect couple. What's more, you'll never argue over who left that egg cup in the sink again as the culprit's name will be all over the scene! 
A great housewarming gift or a quirky wedding present for newlyweds, the Personalised Mr & Mrs Pair of Egg Cups will be a hit with just about any couple you know. Everybody is no-one without their other half, and every couple is nothing without their clichéd matching possessions. So make every breakfast time just that little bit more romantic when you give someone this fun novelty gift. 
Warning: please double check your personalisation as how it appears here will be how it appears on the product, including spacing and punctuation. Please do not include accents and special symbols as some of our processes will not allow this. This includes accents above and below the alphabetical or numerical text.
Bone China.
We would advise that our egg cups are suitable for large eggs.
Height: 13 CM
Width: 10 CM
Depth: 10 CM