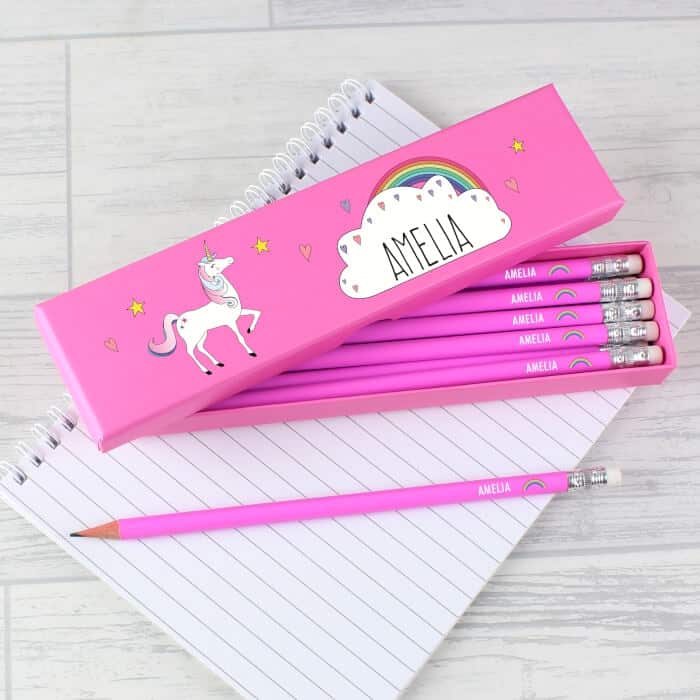 Personalised Unicorn Pencils
Box of 12 Pink HB Pencils – Personalised Unicorn Pencils
This Personalised Unicorn Box of 12 Pink HB Pencils is perfect for school!
The pencils and box can be personalised with a name up to 12 characters.
All personalisation will appear in upper case, both on the pencils and on the box.
£12.99
Description
Add a touch of sparkle to any pencil case with these fabulous Personalised Unicorn Pencils. Pink, shiny and truly unique, this magical gift for girls will be a classroom fave.
With a majestic unicorn and colourful rainbow on each of these novelty pencils, your little girl will surely be inspired when drawing or writing. Everyone loves unicorn, and everyone will love these Personalised Unicorn Pencils, as well as know who they belong to! The personalised pencils can even be stored in a personalised unicorn box that?ll fit perfectly into any rucksack or desk drawer. She'll be the most popular girl in the classroom when she brings in her unicorn pencils, and, with a set of 12 unicorn pencils provided, she'll be equipped with her magical stationery for term after term.
The ideal gift for any unicorn-mad girl, these magical pencils make a great back to school gift for your little girl, niece or friend's daughter. You can give these Personalised Unicorn Pencils as a gift in or out of term time, however. They make a great girl?s birthday present or stocking filler for her, adding some sparkle to any occasion.