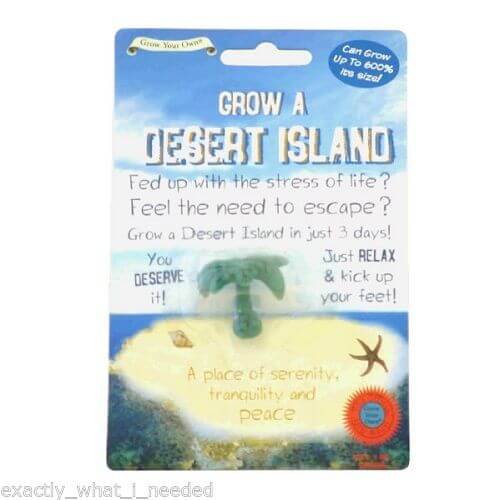 Grow Your Own Desert Island
Place the Desert Island in water and watch it grow up to 600%
£2.99
Description
Additional information
Description
If you ever get fed up of the stresses and hassles of modern life, why not take a break from it all and recover when you Grow Your Own Desert Island? This novelty gift is perfect for a quick escape from the drama of your work and home life, and is a self-professed ?place of serenity, tranquillity and peace?!
It's easy to Grow Your Own Desert Island – just add this funny gift to water and watch it expand over 6 times its size to become your very own paradise Island! With its very own palm tree and soft sand, you won't help but feel instantly relaxed by your desert island. What's more, it slowly shrinks back to its normal size, meaning you can use this quirky gift again and again, and it always keeps its surprise factor for when you need it.
This is a perfect novelty gift for him or her that you can guarantee will be tried and tested once received! A perfect and funny gift for a co-worker, friend or even your boss (if you're feeling brave enough), the Grow Your Own Desert Island is sure to bring a smile to people?s faces. Or, be a bit cheeky with this quirky gift and give it to that friend we all have who just needs to chill out!
You don't have to be rich and famous to afford your very own desert island, and i think that's why?we?love this one so much, because with just a little bit of imagination and a squint of the eye you might actually believe that you pulled it off and you did manage to get yourself your own desert Island ( even if you did have to grow it in a bowl of water – maybe forget this bit)
Made of a sponge-like non-toxic material which expands when placed into water, and when taken out of water slowly shrinks back down to its normal size too, so this product can be used time and time again.