Prosecco and Gin Pong – THE drinking games to play this Christmas
Peter Fernandez
In the run up to Christmas, all eyes will be on making sure we have everything prepared for our festive celebrations. Turkeys will be ordered, tins of Quality Street will be stored away, while bottle upon bottle of everyone's favourite drinks will be stockpiled.
At Christmas, we sometimes neglect the entertainment aspect of the holiday. Spending all our time obsessing over the presents and the food, and relying on good ol' charades and Pictionary to keep us entertained in the later hours of Christmas Day. But this year, there are some new toys in town that are sure to keep the party going all night long.
Everybody's who's ever been to a house party has heard of beer pong. But now you'll be able to play your favourite alcoholic ping pong game with gin or prosecco. This classic game finally gets a modern update as these trendy drinks become the focus of fun.

Gin Pong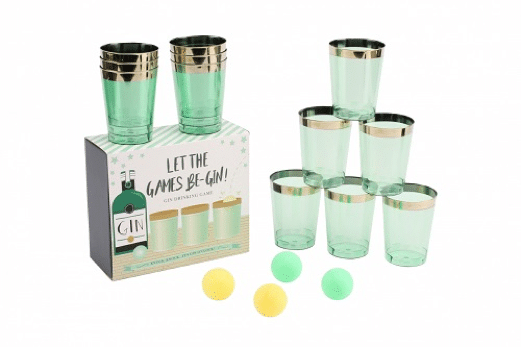 With the pun-tastic slogan 'Let the games be-Gin', this novelty drinking game is designed for all those gin fans out there who want to add even more excitement to the way they drink their tipple.
It's a great late night drinking game for Christmas, and one that anyone who's a fan of gin can get involved with. And if you're not a fan of the sophisticated stuff, you can always admit defeat and use a different drink in your cups – or just try extra hard to win!
Each set of Gin Pong comes with 12 shot glasses, which are great to use even when you're not playing the game! These green-tinted mini tumblers look the part, with suave gold rims around each glasses, and match perfectly if you're pouring from a Gordon's, Tanqueray or Greenall's gin bottle.  Just line 'em up in front of your two teams and truly 'let the game be-Gin' with this novelty gift for him!
Not just a Christmas drinking game, Gin Pong is a guaranteed hit at any party you go to, and is a classic stag do game. It's easy to carry with you, and can be set up on any clear table space. The set comes with 4 ping pong balls (two green and two yellow) and is one of this year's most popular novelty games!
Prosecco Drinking Game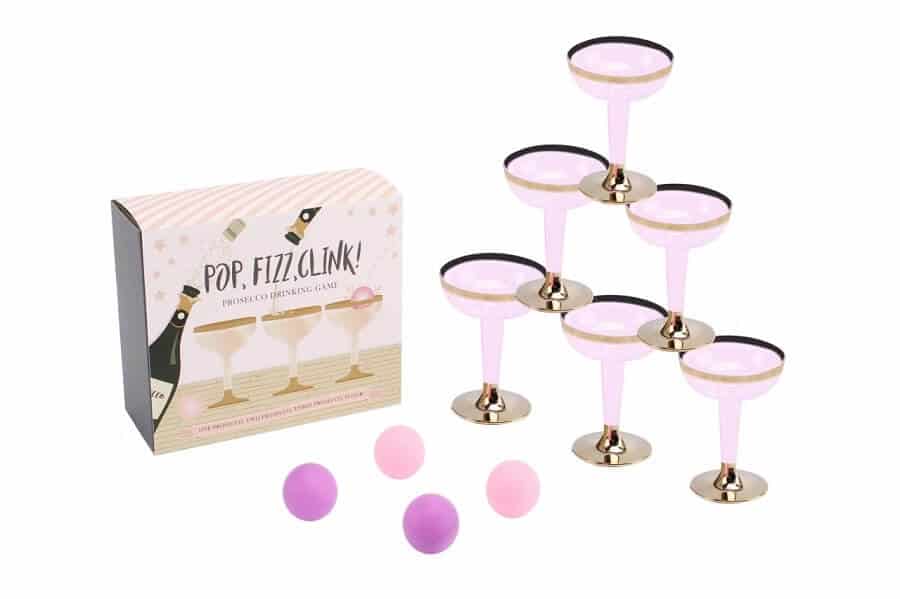 If you're not a fan of gin or beer, don't let that stop you from enjoying the most fun ping pong game you've ever played when you have this prosecco-themed drinking game!
Following on from the same concept as Beer Pong and Gin Pong, this novelty drinking game is designed for those with that little bit more class in mind. Pour yourself 12 classy glasses of bubbly with this fun set and lay them out on the table for the two teams to compete. You'll get 3 ping pong balls (of a fabulously pink shade), and can make sure the fun doesn't fizzle out with this prosecco drinking game.
As with Gin Pong, it's not just a game limited to Christmas (although it'll definitely be one the whole family wants to play as the night gets later). This is the ideal hen party drinking game, and is a great one to play before any night out with the girls. You can drink the classiest of drinks in the most competitive of ways with this prosecco-themed beer pong game.
New to ExactlyWhatINeeded.com, these fun novelty drinking games are available now and are your entertainment essentials in the build-up to Christmas.
Whether you're looking to add even more excitement to the office Christmas party, a colleague's birthday, a housewarming gathering or Christmas Eve with your crazy aunts and uncles, these drinking games are a must-have this holiday season.