Our top 5 personalised gift picks
Peter Fernandez
Whether its worrying that they won't like it or trying to think if they already have it, we spend a lot
of time looking for the perfect gift for that special someone. In fact, we spend too much time when
you consider that we could just make life a whole lot easier and get them a gift that literally has their
name on it!
With our personalised gifts, you don't just get a present with their name printed on it, but you can
also customise the theme to reflect that person entirely, or write your own cheeky message that lets
them know just how well you know them. Every gift should be personal, and you can't get more
personal than with a personalised gift. That's why we've compiled a list of the top five personalised
gifts you should keep an eye out for next time you're on the hunt for the perfect present.
Chocolate kisses: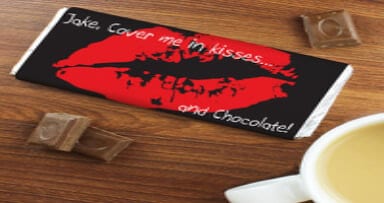 Has there ever been a better gift in the history of the world than chocolate? …well, there has now! You know it's got to be a great present when the wrapper manages to upstage the delicious milk chocolate inside. With this Personalised Milk Chocolate Bar, you can add a naughty message to your loved one. You can add their name to the outrageously flirtatious message "cover me in kisses". And, you'll also be able to write a small message on the back to commemorate the occasion, giving you a chance to leave a slightly less risqu' impression, should you wish to?
Whether it's your girlfriend, boyfriend, husband, wife or even that secret crush in the office, this cheeky personalised gift is sure to go down as much of a treat as the chocolate inside.
Purple Ronnie Personalised Mug: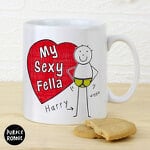 Everybody likes to feel special and everybody likes to feel appreciated, but giving a gift that makes someone feel that way isn't always that easy. Fortunately, it is when you give them this Purple Ronnie personalised mug. We're delighted to stock this cheeky little mug, that's sure to bring a smile or two when it's given its debut in the office.
We know you want a gift that will make that person think about you every time they see it, and that's why this Personalised Purple Ronnie mug is the perfect choice if your partner drinks at least one cup of tea or coffee a day. Available in His and Hers editions, you can add their name to the front right next to the adorable title "My Sexy Fella" or "My Sexy Man". You can even add a fun little message on the back and sign the gift off with your own name, making this the perfect personalised gift for Valentine's Day.
Drink O'clock Bottle Presentation Box: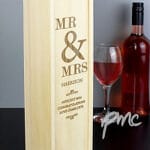 We all like a drink as much as the next person after a long week of work or on a special occasion, and we all have our favourite poison of choice. With The Drink O'clock Bottle Presentation Box, they can put their favourite on display and add their very own name to it!
Whether it's gin, whisky, red wine or white, this sleek wooden display box is the perfect sophisticated storage they're after. You can personalise the bottle to say It's always (their drink of choice) o'clock at (their name's). This way they can assert their authority over their bottle, or you can make your kitchen/living room even homelier by adding the family name to let everybody know what you guys love.
Just as this vintage-style presentation box looks the part in any room, it also suits any occasion as the ideal novelty gift for him or her. So surprise your loved one, family member or flatmate with this suave personalised bottle presentation box.
Personalised Moustache and Lips Salt and Pepper Set: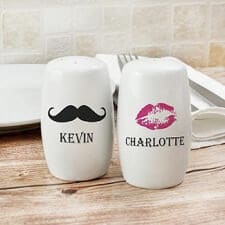 Nothing brings a couple even closer together than a set of matching salt and pepper shakers! Make a house a home with these Personalised Moustache and Lips Salt and Pepper Set. The finishing touch to any kitchen, this fun novelty gift is a great stocking filler for your other half.
You can add your names to the condiments (it's up to you who gets to be the lips and who has to be the moustache!) and really show any guests just how trendy you two are. You won't just impress every visitor you have, but you'll also brighten up the dinner table every night when you reach for some salt or pepper with your meal.
Just as salt and pepper, you know you and your special someone just can't be without each other. So why not show it with this cute novelty gift for couples?
Personalised Paw Me Another Hip Flask: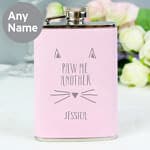 We all have that cat crazy friend, and we all have that friend who's always up to party. Yet unfortunately, we don't all have a Personalised Paw Me Another Hip Flask. That's where we can help, fortunately!
If you're stuck for novelty gift ideas, whether it's for your sister, your girlfriend, your bestie or that kooky colleague, look no further than this awesome pink hip flask. Complete with cat whiskers and an always-funny pun in "Paw Me Another", this flask is exactly what she needs to get the party started. With this funny gift for her, you can go one step further and proudly display her name on this birthday essential!
One thing's for sure, whether you give the flask as a birthday present, a cheeky stocking filler or a hilarious secret Santa gift at work, she'll never show up to a party without it!
If our personalised gift picks aren't to your liking, why not browse our extensive selection to find the perfect present for that perfect someone?